Your Expert St. Peters Chiropractor
Experience Fast, Natural Pain Relief & Lasting Results
At Schoenherr Chiropractic our multifaceted approach to health works to quickly give each individual results – whether you're here for pain relief, rehabilitation, maintenance, or addressing long-term health goals and wellness. Our doctors will create a customized treatment plan to relieve your pain and get you on the path to a pain-free life.
For our new patients we're offering a $99 special that includes an exam, x-ray & first treatment if needed! Call us at (636) 477-8885 or book your appointment online to get started!
Don't live in pain – call us today!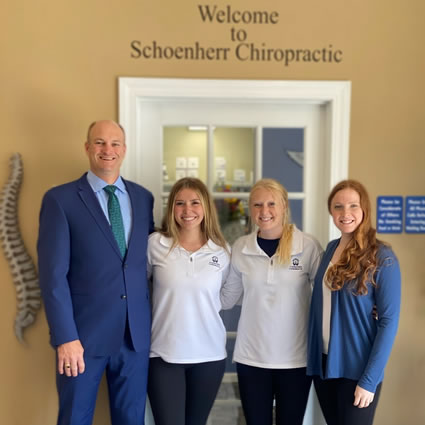 Treatment for Everyone

Full Service
We pride ourselves on being a full-service practice in St. Peters, so we will make the calls to verify and file insurance for you. We accept:
Medicare/Medicaid
Family Plans
And we are an in-network provider for many insurance companies.
Contact us today to schedule your first appointment. We'll usually have you in and out in 20 minutes so you can get back to your day!
Book Your Appointment >>

Book Your Appointment Online
Be sure to mention the New Patient Special in the comments.
CONTACT
Schoenherr Chiropractic
1365 Triad Center Dr, Suite B
St. Peters, MO 63376
T: (636) 477-8885
F: (603) 433-6447
Office Hours
M
9:00 – 1:00
3:00 – 6:00
T
9:00 – 1:00
3:00 – 6:00
W
9:00 – 1:00
3:00 – 6:00
T
8:00 – 1:00
3:00 – 6:00
F
9:00 – 1:00
3:00 – 6:00

FIND US
Chiropractor St. Peters, St. Charles, Cottleville MO | Schoenherr Chiropractic | (636) 477-8885