Meet Dr. Stephen Schoenherr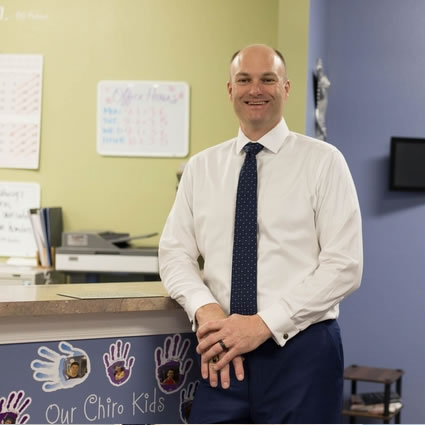 After Dr. Steve found relief from his headaches with chiropractic care, he wanted to share chiropractic's healing properties with others. He attended Logan University, where his mentor encouraged him to pursue his passion of helping others achieve wellness naturally.
Helping the Community Stay Healthy
For over 20 years, Dr. Steve has been caring for people who want to heal themselves from the inside out – without drugs or surgery. He has a special combination of a caring heart and a straightforward approach that allows people to feel safe and confident in his care. He loves working with families and is delighted that children he treated early in his practice are now bringing their own children to him for chiropractic care. He feels a special calling to help kids maximize their potential without starting down the path of prescription drugs.
Healing from Within
Dr. Steve helps patients learn to trust their innate ability to heal themselves from within, and let go of the idea that health comes from something external. His role is to facilitate that innate ability by removing nervous system interferences with highly specific adjustments.
In addition to chiropractic, Dr. Steve is also certified in acupuncture and has advanced training for extremity work, TMJ, and nutrition.
EXPLORE OUR SERVICES
Enjoying the Outdoors
When he's not helping Schoenherr Chiropractic patients feel better, Dr. Steve can usually be found outdoors, running through the woods, hunting and fishing, or mountain biking. He also enjoys traveling and spending time with his wife and three grown sons.
He would love to help you learn more about creating health from the inside, so your body can begin to function as it's designed to – and so you can enjoy life and all it has to offer!
Contact us today to get started.

Dr. Stephen Schoenherr | (636) 477-8885