Pregnancy Chiropractic
Healthy Pregnancy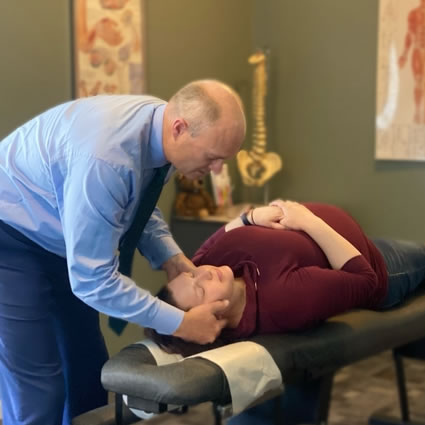 Many St. Peters area OBs refer their patients to us because gentle, caring chiropractic treatments from Dr. Steve and Dr. Julia at Schoenherr Chiropractic can:
provide pain relief and better sleep
help prepare the pelvis for delivery
facilitate getting the baby into the right position to be born as easily as possible (we offer Webster techniques for breech presentations)
reduce labor time
reduce the need for surgical intervention
As with other patients, we do a thorough exam to determine exactly where misalignments are. However, we do not X-ray pregnant women. We'll make you as comfortable as possible with cushions for support and we'll tell you exactly what's happening every step of the way.
Effects of Hormones
As you get closer to your due date, your body releases hormones that increase motion in your spine and joints. This is what allows flexibility in the pelvis for delivery, but that increased motion makes it necessary to do more frequent adjustments to keep your body in alignment as your approach your due date. These same hormones are helpful after childbirth because your spine is still more malleable, so this is a good time to keep getting chiropractic care. We can restore motion and help make structural changes to facilitate easier, longer-lasting changes.
At Your Service
We know this is an exciting time for you, and we want to make it as happy and healthy as possible for you and your baby. Our team has the skill and experience to provide you with the best chiropractic care possible before, during and after your pregnancy. Our goal is to be of the utmost service to our patients, and we would love the opportunity to serve you during this special time. Contact us to schedule an appointment today.
CONTACT US

Pregnancy Chiropractor in St. Peters MO | (636) 477-8885